Iacopo Falciani, Teacher Trainer at Europass for ICT courses -Iacopo was born in Florence and he focused his education on ancient history and classical philology. He later became a social science teacher, with a huge passion for geography and technology. Upon concluding a Master's degree in teacher education from the University of Florence, Iacopo taught social sciences for two years, in Italy and Spain, and then worked as a volunteer teaching Italian to immigrants. Enjoy!
What's your favourite social media? Why?
I don't think I have a favorite social media; I use them for different reasons so I have preferences depending on the goal. Every teacher, for example, should distinguish personal applications from professional ones. When I teach I always recommend avoiding Whatsapp or Facebook groups with the students, just because they are not professional tools connected to the classroom environment. This doesn't mean that I don't like them; I find Facebook very useful especially to find events of any type that can be of great interest also for a school. But in class, with the students, I used to suggest different social networks like Edmodo or collaborative spaces such as Trello.
Anyway, I don't think it is possible to determine a favorite one and it is counterproductive to get stuck with a limited number of programs; the world of technology, and consequently of social media, is constantly evolving and giving new opportunities. So my favorite thing in this world is exploring and discovering new tools and new possibilities.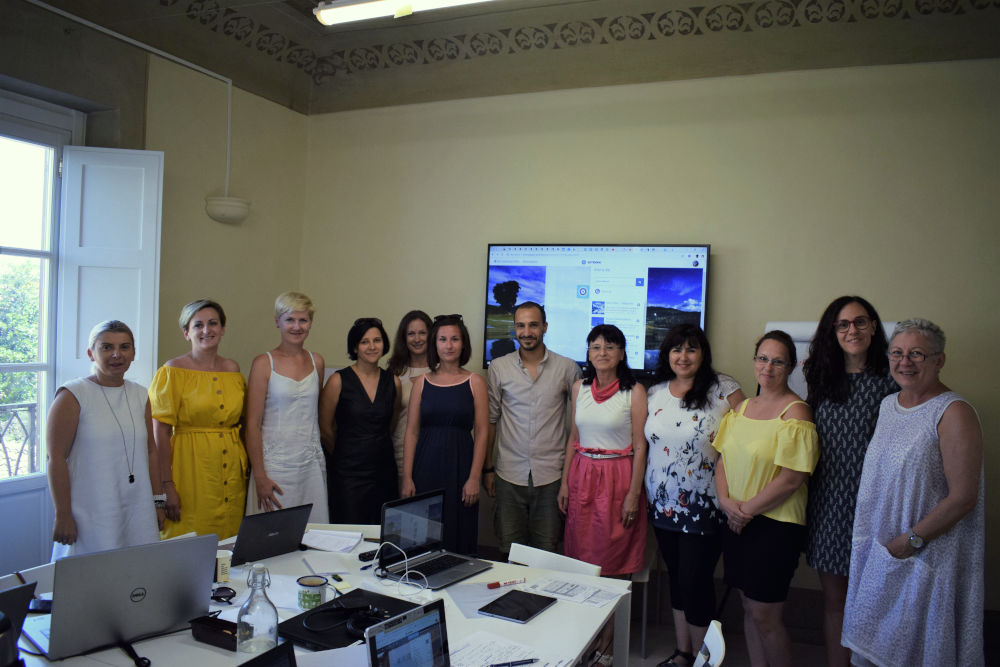 Why did you become a teacher?
When I was in high school and later at university I didn't think about becoming a teacher; I used to see teaching as a distant world, a profession I didn't spend too much time thinking about.
It came later, maybe quite casually, when I started teaching, that I started to know and appreciate it; I guess it really took a few days for me to realize that I loved this profession.
Of course I love the subjects I teach, I have always enjoyed studying and extending my knowledge; but what I discovered immediately from spending time with the students was how amazingly satisfying human relationships are. I think too many people think about teaching in an old fashioned way, based on authority and grades; in my opinion teaching is much more than this; what happens beyond the grades, outside of the school curriculum, is something amazing. This job gave me the possibility to appreciate the importance of human connections, which is helping me a lot to improve myself as a person.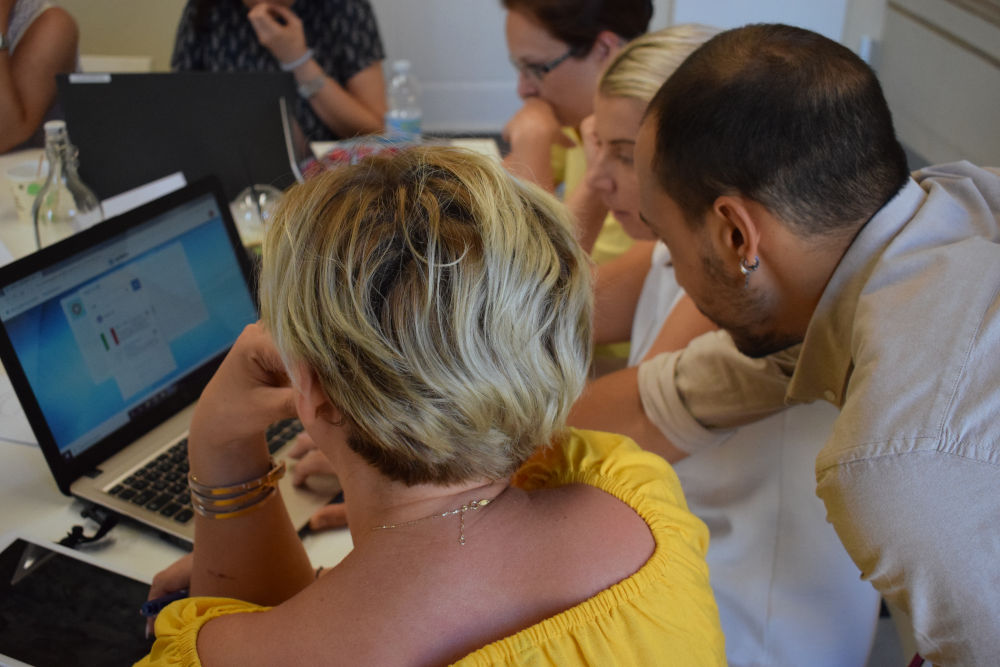 What's your motivation for teaching?
It is probably connected to my personal experiences, to what I've experienced and to who I am today.
Nowadays, in a chaotic world like this, continuously changing, it is not easy to be a teacher, to be a good example for your students. I think that the emotional aspect is more and more important in our European society, and we cannot teach students to build our happiness just on our future job or the money we can earn. Life is difficult and unpredictable, especially when we are young, and teachers must represent a safe harbour for students, an adult who a kid can always trust and talk to.
I think that the ability of creating a deep meaningful relationship, to be prepared to listen to the students, these are skills that every teacher should learn. And these abilities are not in contradiction with the ability of passing on information. Both can and should coexist in a good teacher.
In Europass, I feel really lucky to be able to share these feelings and these principles with other teachers; this way we can improve together, just like what happens in every teaching-learning process. Our common passion is giving and having the necessary strength to carry out our job, knowing what the difficulties are and being more and more aware of our mission.
When did you first find out about Europass Teacher Academy?
It was few months before I started working here. I had just come back from a year in Spain with a lot of knowledge and enthusiasm; I was looking for a school where I could teach Italian as a foreign language. Europass was on my list (actually it was a long long list: every Italian language school in Florence was on it!). During the interview I was told about the Europass Teacher Academy: I knew that my experience could allow me to teach in an environment like this, and that's what happened.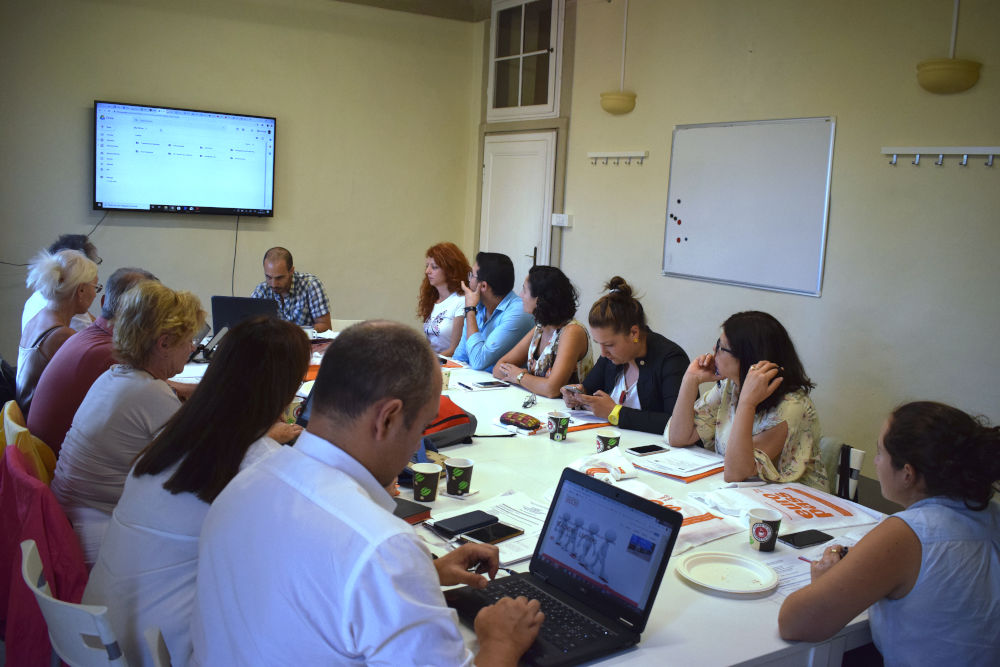 How has social media impacted your life? And your class?
Social media have been always part of my life since I was a teenager, but of course the world of technology is changing really quickly and one must adapt. I have to study constantly the new programs that developers create and I feel this work as necessary to be a teacher in the 21st century. New generations cannot imagine a life without technology and we barely can, despite the fact that we have grown up in a non-digital world. So we have to fill this gap and keep up with the numerous positive possibilities that social media can give us to live our lives better.
At the same time, I always feel the need to educate regarding the use of these tools, and I'm not talking just about young people, but everybody. None of us has been taught how to use technology properly, and a school should first pay attention to the risks and then to the positive outcomes.
So in my classes I always make sure to talk about the dangers produced by a misuse or an abuse of technology, especially if we consider that social media are very highly addictive.