Mobility (Key Action 1) is the most funded Action in the Erasmus+ 2021-2027 programme.
This Action provides a unique opportunity for individuals to participate in international training courses in different European countries.
Funding opportunities under Erasmus Plus KA1
Teachers and all staff in charge of school education in primary schools, secondary school and higher education (also vocational education and training, schools for adult education and youths) can apply for funding to run mobility projects to offer training and/or teaching opportunities to staff and learners.
Erasmus+ accreditation & short term applications
Erasmus+ accreditation
2021 Deadline: 19 October
In order to get the grant continuously for the entire duration of the new Erasmus+ Programme (2021-2027), each school, or a consortium of schools, can apply for Erasmus+ Accreditation. When requesting accreditation, you must state that your school complies with the Erasmus quality standards, and illustrate your school's internationalization plan in the next six years. By presenting just a budget request in line with the school development plan outlined in the Accreditation application, accredited schools will have facilitated access to mobility funds for 6 years.
Short-term project applications
The application deadline is usually between February and March every year, but in 2021 it has been postponed to 18 May.
However, if your school didn't manage to get accredited this year, it still has many opportunities to participate in the Programme even this year. For instance, it can apply for short-term projects, join a consortium that has already been accredited, or make the school act as a hosting organization for another accredited foreign school. Institutions from Erasmus+ Program Countries can submit a mobility project application to the National Agency in their country.
2021 Deadline: 5 October
Short-term projects for the mobility of learners and staff in school/adult/VET education depending on the single National Agency.
Invited Expert – Training Course and Support
2021 Deadline: 11 May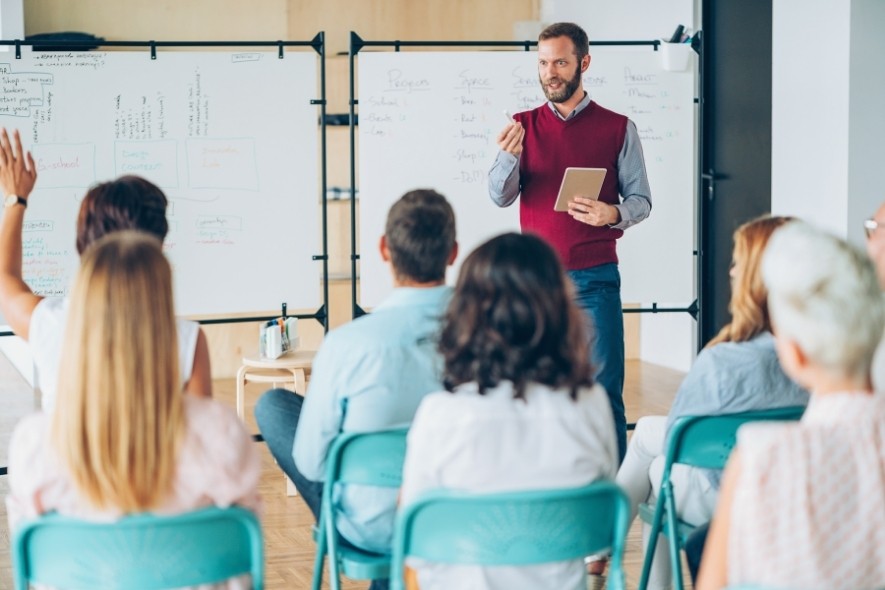 The new Erasmus+ Programme, in its Key Action 1 (KA1), supports a new mobility activity called Invited Expert. In the same KA1 Application where your school can apply for funds to send their staff and students abroad, you can also invite experts from another Programme country. This new mobility activity is particularly useful as it allows not only the teachers who participate in a mobility experience but every teacher from your school to easily take part in a training course in their hometown.
Who is an expert?
The new Erasmus Program Guide says that an expert can be "trainers, teachers, policy experts or other qualified professionals from abroad who can help improve the teaching, training and learning at the receiving organization" (Erasmus+ Programme Guide 2021 p. 97). The invited experts may provide training to all the staff, helping your school to acquire new skills in teaching practices as well as in organization and management.
Why you should invite an expert?
If you are going to apply for a short-term KA1 project, or for accreditation, we suggest that you include at least one expert visiting your school in your application. Indeed, in the past, the European Commission has shown great appreciation for projects which have implemented the most relevant changes in the Erasmus+ Programme.
Invite an Europass expert
Have you applied for the new Erasmus+ opportunity "Invited expert" in your project? Are you looking for the right expert for your school?
We have many qualified trainers located all over Europe who are specialized in a large variety of subjects. If you're in doubt about which training is more urgent for your school, have a look at our catalogue, we offer more than 200 teacher training courses! 
Once you've chosen the main topic of your course, our staff will find the most suitable professional among our trainers. We will then design a teacher training experience responding to your specific needs.
Europass trainers will be available at your school for a minimum of 2 days to 6 days max for €250,00 per day. Your school is also required to cover travel expenses and the cost of accommodation for the trainer during the course.
Don't hesitate to contact us if you have any questions. 
Vocational education and training – study visits
Deadline: Usually in February / March
Starting from 2021, not only schools and universities can apply for learning mobility for students and staff, but providers of vocational education and training (VET) can also participate in staff and learners' mobility. Among these activities, there are also professional development courses for teachers/trainers and invited experts.
In addition, we are implementing 4 courses regarding vocational and training-based education offered in 4 different countries which are designed to become more specific according to participants' needs and requests. Which sector of each country's VET would you like to learn more about? Tell us so that we can arrange school and business visits. For instance, in the Florence area, there is a huge variety of successful enterprises that you could meet and work with, such as the textile industry, jewellery and the food and wine sector.
Don't worry if you don't know the steps to complete and submit the Erasmus+ KA1 Course Application Form. All these procedures and formal requirements might seem confusing but if you need support remember that we are at your disposal and our online step-by-step Erasmus+ course guide you throughout the process!
Pupils mobility
If you want to provide your pupils with an exciting experience abroad, you can choose between three kinds of learner mobility:
Group mobility of school pupils (at least 2 pupils per group, from 2 to 30 days) – your pupils can study in a hosting school abroad or, if well justified, in another place in the country of the hosting school, or at the seat of an Institution of the EU and they have to be accompanied by their teachers for the whole time;
Short-term learning mobility of pupils (from 10 to 29 days) period of study at a partner school or traineeship at a relevant organization abroad;
Long-term learning mobility of school pupils (30 to 365 days) period of study or traineeship abroad with an obligatory pre-departure training.
Moreover, all physical mobility activities can be blended with virtual ones.
Are you looking for a host partner for your pupils' mobility or do you want to become a hosting organization? Contact us, we can help you!