If you have attended one of our courses in Florence, you may have noticed how Tania, one of our office managers, always works with a big smile on her face.
Today, with this first interview with one of our administrative team members, we would also like to celebrate the incredible job done, during the Erasmus Plus KA1 application period, by all our back-office staff. If the office has continued to run smoothly, all the credit go to them!
1. Tell us about yourself?
I was born in a small town in the southern part of the former Soviet Union (Советский Союз, in Russian, also known in English as the USSR). I am the only child of a soldier and a doctor. I was quite egocentric and a much-loved girl who up to now expects, with all the strength, everything and immediately. In 1998 I have successfully finished the Piano Conservatory, in 2003 I was graduated in Foreign Languages and Literature, then straight after I decided to do a master's degree, but I never finish my studies because of… love! Against my dear parents' will and the fact that my life was already programmed, I decided to follow my heart, my personal dreams, and I came to Italy.
There is something powerful about chasing and fulfilling our dreams, and I have an extensive list of life goals, at least twenty-eight dreams for the future if not more! Shall I list them?
I have everything I've dreamed of, and I am genuinely happy! I feel incredibly lucky to meet amazing, extraordinary people in life, to get many professional opportunities in my career and to accomplish already so much. I love living in Italy, one of the most beautiful countries in the world with its beautiful sea, mountains, healthy food and passionate style! The most important event has occurred in my life in Florence and now I am extremely loved! Maybe this is the very simple but crucial point of my being!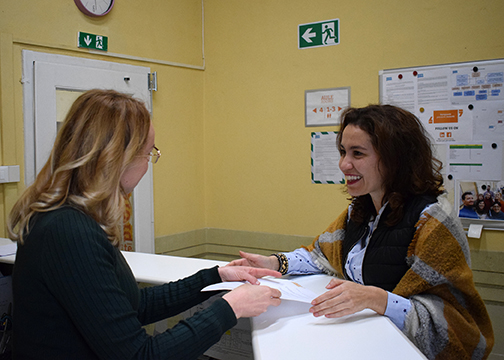 2. You are full of energy and enthusiasm! What motivates you to do your best on the job?
At Europass Teacher Academy we are completely free to reach our organization's goals. We have the rules to respect but we are not under stress, pressure or overwhelming control. Our Directors trust us and know that we are doing our best (even more) for the growth and common development of their company. It is absolutely not usual Academy and fantastic job!
3. What is good about life at work at Europass?
Europass seems to be an expanding empire and working here, being a member of this company (member, not a number!) is exciting. We are never bored and the time passes so quickly! Sometimes we wish the days became longer than 24 hours and we manage to successfully assist the teachers from all over the world daily! It is also important to be sure of constant employment, isn't it? My colleagues and I may have dreams and make some of the real: dreams such as to be able to buy a small, but wonderful, home to enjoy living in after the working day!
4. Why do you feel excited about meeting new people every Monday?
We meet new people on Mondays when our teachers start the courses with our great Trainers! Already on Tuesdays, we become friends! We keep on assisting them, talk about their private lives, see the pictures of their children and students, we have fun doing selfies together and exchanging gifts. It is really sad to say "goodbye" on Fridays when our participants finish the courses but leaving they are willing to come back as soon as possible in the future. That is the most valuable reward for us!
5. What is the secret behind that sweet smile?
I don't know, it comes spontaneously! For years I covered the Front Office position and I think a simple and sincere smile is the way of welcoming people and highly appreciated by them in any case! Frankly speaking, why not smile while being loved and appreciated! "A day without a smile is a lost day" said Charlie Chaplin, and I completely agree with him! Moreover, how may I not smile when our teachers entering Europass greet me "Good Morning Tania, you are the sunshine while it's raining outside"? Unforgettable & everlasting emotions!