Florence is considered by many academics the birthplace of the Renaissance, and is still wonderfully preserved as a Renaissance city, with its art and architecture that remain the city's unique treasures. Renaissance literally means "rebirth" and, if we have a look outside of the museum's walls and toward the tiny streets called vie or vicoli, we can feel a sense of vibrancy. It is the city's contemporary art scene!
In recent years a new generation of artists has emerged, and they have started a new Renaissance to bring art closer to people once again. Florence Urban Renaissance makes a city more colorful, gives a message to the people who are passing by at a certain moment, it can make you think or it can inspire you. An open-air gallery for all to enjoy, decorating streets, walls of the palaces, and not even the street signs are safe!
In Europass Teacher Academy and Europass Italian Language School, we organize a tour of the Oltrarno neighborhood, the heart of Florence, where you get to know the best street art in Florence and some of these new urban artists, having a look at their original new frescoes.
Originally from Bretagne (France), Clet Abraham, has been living in Italy for over 20 years, here in Florence he has his own studio in San Niccolò district. He created an absolutely original form of street art: he started to put mysteriously, funny stickers on the Florentine street signs, like David's Michelangelo on a "no-entry" ban or a fish bones on a "turn" sign. Some years ago he also put a "nose" on the San Niccolò tower and a "common man" who was jumping on the Arno river from Santa Trinita Bridge (both of these art installations were removed by the city administration).
Abraham's alterations have never changed the original purpose of any of the signs involved. There is no doubt that a no-entry sign is still a no-entry sign, just with a side of fun. His aim is to make us think about blindly taking orders while adding in a good dose of amusement! Nowadays Clet is a well-known artist all over the world, from Paris to Osaka, people everywhere can see his colorful street signs.
This mysterious artist became very popular for his project "L'Arte sa nuotare" (Art can swim), he depicts famous works of art and characters mainly in blue, white and black. Italian icons, defined by the artist as positive symbols (like "Lady with an Ermine" by Leonardo Da Vinci, "Venus" by Botticelli or a portrait of Salvador Dalì) are wearing a diving mask and they are all swimming underwater. He painted directly on sticks posters and he attached them on metal doors of gas or electricity meters, and so they are regularly removed.
Blub is a Florentine artist and he often uses social networks like Instagram and Facebook to communicate with the community and spread his art-project, but he prefers to remain anonymous.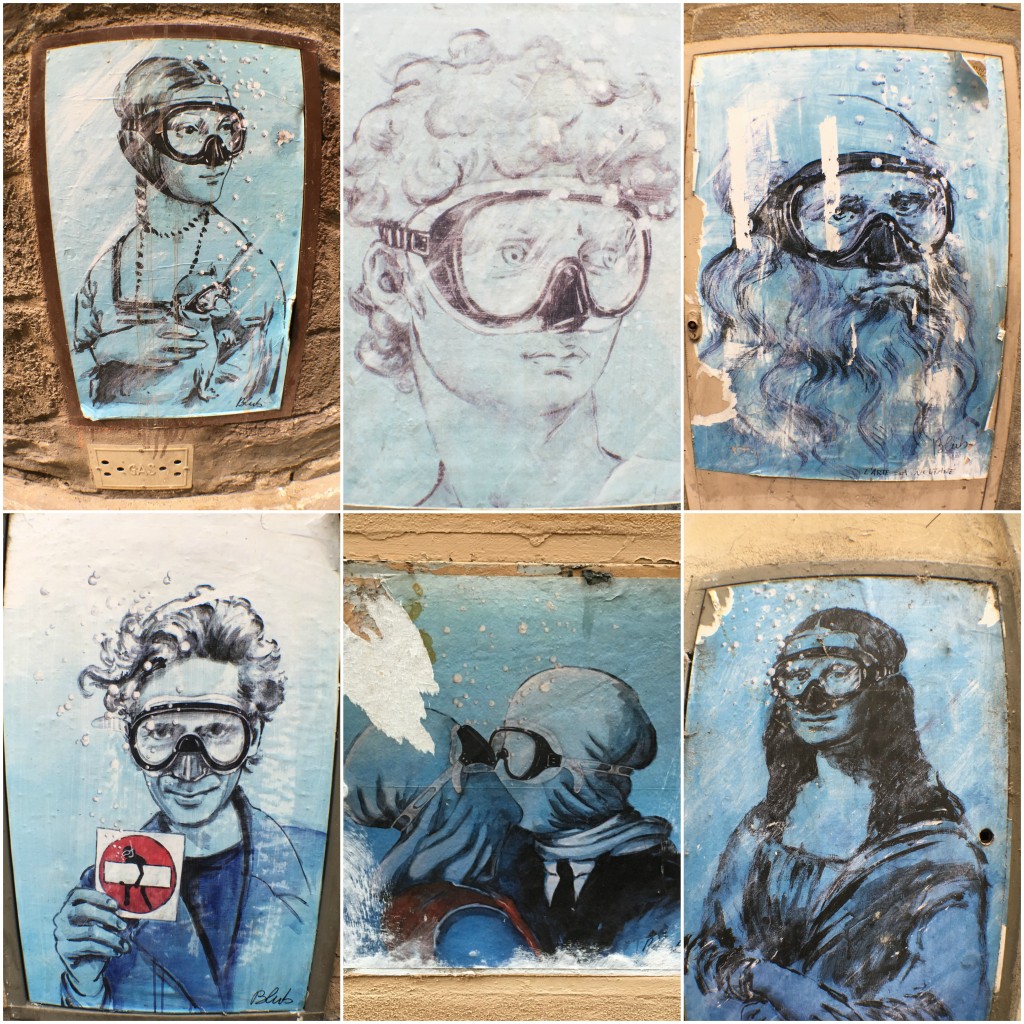 This Florentine artist known as Exit/Enter (who is sometimes signed only with K.) is famous in most of Italian cities, and also abroad. Born in 1990, Tuscan, he started to create his art in 2013, first in Florence, and then expanded to many cities like Naples, Rome, Palermo, Venice.. and abroad Brussels, Lisbon, Valencia, Barcelona, Amsterdam, just to name a few. He is famous for the stylized line figures holding a read heart or a balloon.
His drawings are minimalist, the artist uses almost always only sprays and mainly chooses ruined walls to show his creative art to public. If you see one and stop, you can read a positive message of love, of peace (like "share the positive" or simply "fly away") and smile for a moment. Why this name? The artisit explains: " 'Enter' came when I looked for a 'surname' in order to create the Facebook profile. 'Exit Enter' was perfect. When you go out, you always go somewhere."
Recently Exit/Enter presented his work at the Street Art Museum in Amsterdam.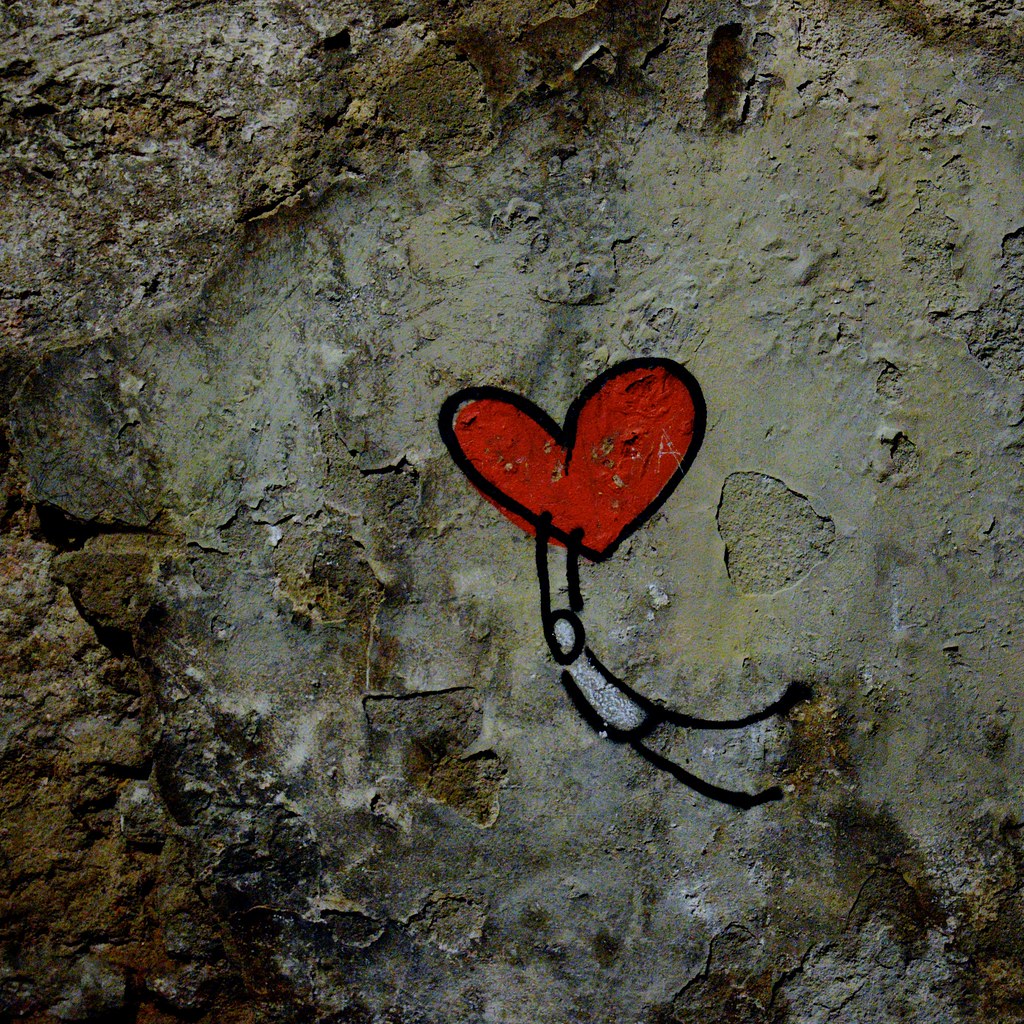 The aim of this Italian artist is to promote the use of bicycles in the city, so all his drawings represented a quirky red and white cartoon with a striped shirt and a hat upon, and they look to be a pedal bike, colorful and funny. These posters are now very much part of the Florentine urban cityscape.
This new art project was created and supported by a collective ruled by women. Their paintings started to appear on Florence's walls on the last 8 march (world women's day). This project started to celebrate eight important and influential women like Nefertiti, Frida Kahlo, Sofia Loren, and Margherita Hack, all represented as the popular comix character Superwoman. Recently #LeDiesis comes up with new drawings, I suggest you take a walk in the suggestive city center of Florence and discover some of them.
These artists preferred to remain anonymous but their Instagram page as already many fans and the hashtag #lediesis also became very popular.