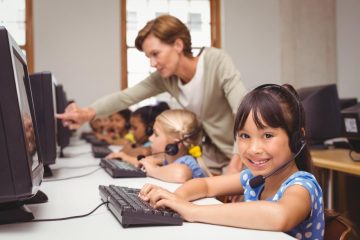 What kind of relationship could there be between learning languages which are less widely spoken and an increase in the use of technological tools? Celebrating a happy marriage between the two has been the intent of our two-year project, which is going to reach its summit in a few weeks.
The event "Conferenza & Workshop: Tecnologie per la didattica delle lingue" which will take place on the 25th of September is not the conclusion of our explorations, but it is actually going to be the chance to spread the seeds of our collaboration with other people working in the field of language education.
So what have we been doing since 2017? Who are we? And what is going to happen this month?
ICT4LWUL
The acronym of our Erasmus+ Strategic partnership stands for "ICT based methods for teaching Less Widely Used Languages".
Six language schools from six different European countries have been collaborating with the aim of developing innovation in the domain of language learning. The main product of this is a handbook containing practical information about web platforms and apps which teachers and students can easily use. The handbook includes a set of examples of lesson plans and exercises, from which readers can take inspiration in order to design interesting activities for their own classes.
Bridge Language Study House (Romania), Tallinn Language Centre (Estonia), Debrecen Summer School (Hungary), Studium Modern Languages Centre (Poland), ITC International (Czech Republic), and the undersigned Europass Italian Language School (Italy) are the partners involved in ICT4LWUL.
What do we have in common? On the one hand, we all teach languages that are not as known as "giants" like English, Chinese and Spanish. On the other, we share the intention of creating innovative and practical strategies which can motivate students in the challenge of learning our languages, through the use of devices that they are handling more and more often. Last but not least, we are moved by the enthusiasm of coming up with ideas that can improve our job, making it more fun and effective.
These, together with others, are the ingredients we would like to offer you on the 25th of September.
OUR FREE CONFERENCE
We are going to host between twenty and thirty participants, working in the field of language education. During the afternoon that we will spend together at Spazi Sangalli (Firenze), different ICT based methods will be presented, along with the handbook. Our active audience will explore examples on how to create exercises for teaching foreign languages, with the help of the ICT based methods. In addition to this, they will be involved in hands-on activities on laptops and smartphones in order to come up with innovative ideas and creative exercises for their own students.
We are looking forward to meeting you and sharing all this with you!
MORE DETAILS
• Tuesday, 25th of September 2019
• Spazi Sangalli – Piazza di San Firenze 3, 50122 Florence, Italy
(View on Google Maps)
• Register now: ilaria.barbieri@europass.it
• Don't miss it. Share your email with us to get the latest information and details about the conference & workshop. Within the "ICT4LWUL" project we are able to offer 20 places at the conference free-of-charge
Facebook Event:
https://www.facebook.com/events/716534808802654/?active_tab=about
Website: https://ict4lwult.wordpress.com/project/
Fanpage: https://www.facebook.com/ICT4LWUL/
Event within the framework of "ICT based methods to teach less widely used languages" Erasmus+ Strategic Partnership:
Co-organised by:

---

About the Author
Ilaria Barbieri, Language Teacher, Teacher Trainer and Project Manager at Europass
From a small village next to Lake Garda, drifted towards other harbours to get a degree in Social Psychology and a Masters in "Italian Language and Culture for Foreigners". Ilaria has then carried out research across the UK, Spain, and France worked in public schools, dived into the fields of sociolinguistics, anthropology, video making and…landed at Europass Teacher Academy in 2015. Her teacher training courses guide participants into the creation of innovative strategies to make learning more relevant for students. Education should stimulate people's personal development while opening them up onto their place in the real world. Since 2016, her interest in a European dimension has also addressed the management of Erasmus+ KA2 projects.
---